Well-known for its prowess crafting components from machined aluminum, Spanish component brand Rotor is finally making the leap to the composites world with a carbon fiber version of its Aldhu modular crankset (Aldhu is a portmanteau of Alpe d'Huez, in case you were wondering).
Claimed weight for the new Aldhu Carbon crankset is 524 g (172.5 mm arms, 30 mm road spindle, 50/34T direct-mount chainrings), giving it a roughly 100-gram advantage over the standard aluminum Aldhu, and making it about 90 g lighter than a similarly outfitted Shimano Dura-Ace crankset. According to Rotor — and as you'd perhaps expect from a materials standpoint — the Aldhu Carbon is not only lighter, but also 11-36% stiffer than the standard Aldhu, depending on loading direction. Further helping on the stiffness front is Rotor's 30 mm-diameter oversized aluminum spindle.
In summary, Rotor says the new Aldhu Carbon is lighter and stiffer than the standard Aldhu, which will come as a surprise to absolutely no one, and will likely elicit more than a few yawns from savvy consumers who have heard this story countless times over the years.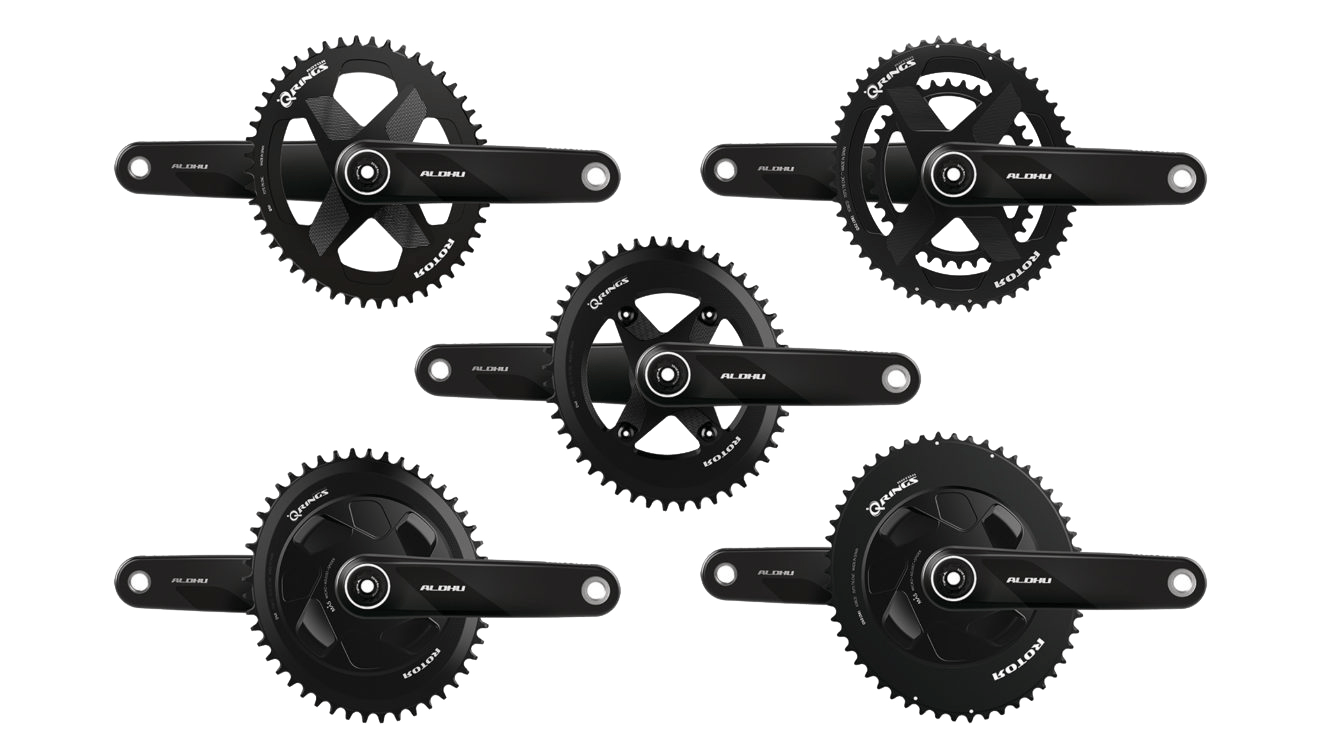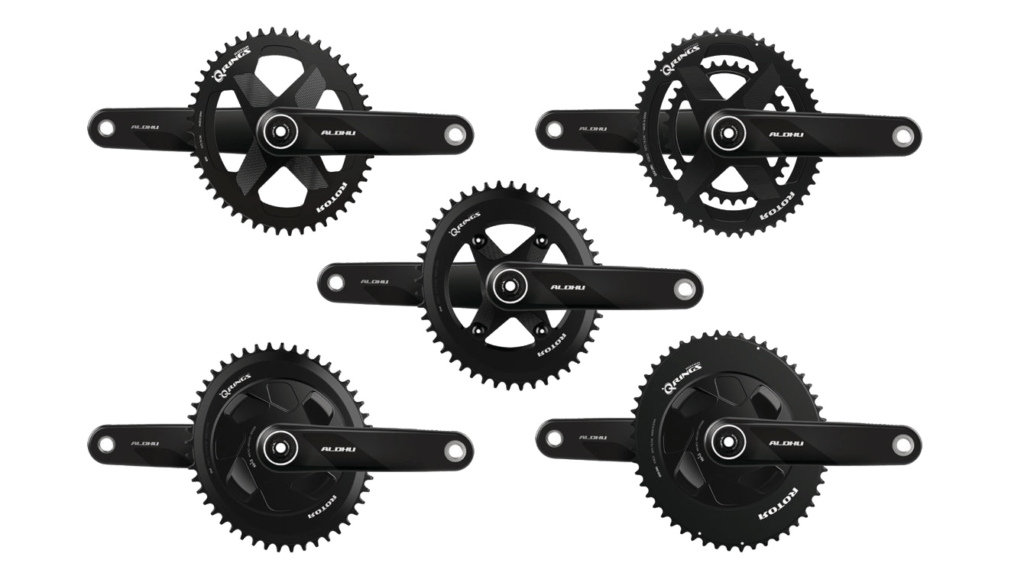 Rotor has done a good job of designing the Aldhu Carbon so that it'll work with nearly any drivetrain configuration. These are but a few of the possibilities. Photo: Rotor.
Arguably the most appealing attribute of the Aldhu Carbon crankset is its modularity. Just like the regular Aldhu crankset, the Aldhu Carbon's arms, spindle, and spider are all separate components that can be mixed and matched depending on your needs (and budget).
For example, road riders more interested in saving weight can go with the direct-mount double chainrings. Want to add a power meter? Just go with standard bolt-on rings and Rotor's INspider power-measuring chainring spider. Concerned more about aero drag than shaving grams? There's the Aero MAS spider and solid chainrings for an enviably smooth profile. Running a 1x drivetrain? Easy. Want to offset the chainline slightly outward to accommodate a particular disc-brake drivetrain? Just switch to the longer spindle, which, even with the 5 mm of total length (2.5 mm per side), still retains a good 152 mm Q-factor.
Rotor also offers most of its chainring options in both round or elliptical Q-Ring shapes, and for the latter, the splined crankarm interface allows for minute adjustments in mounting angle to fine-tune the chainring shape to your particular pedal stroke mechanics. Bottom bracket options run the gamut, too, accommodating all common fitments with the exception of Trek's BB90 system.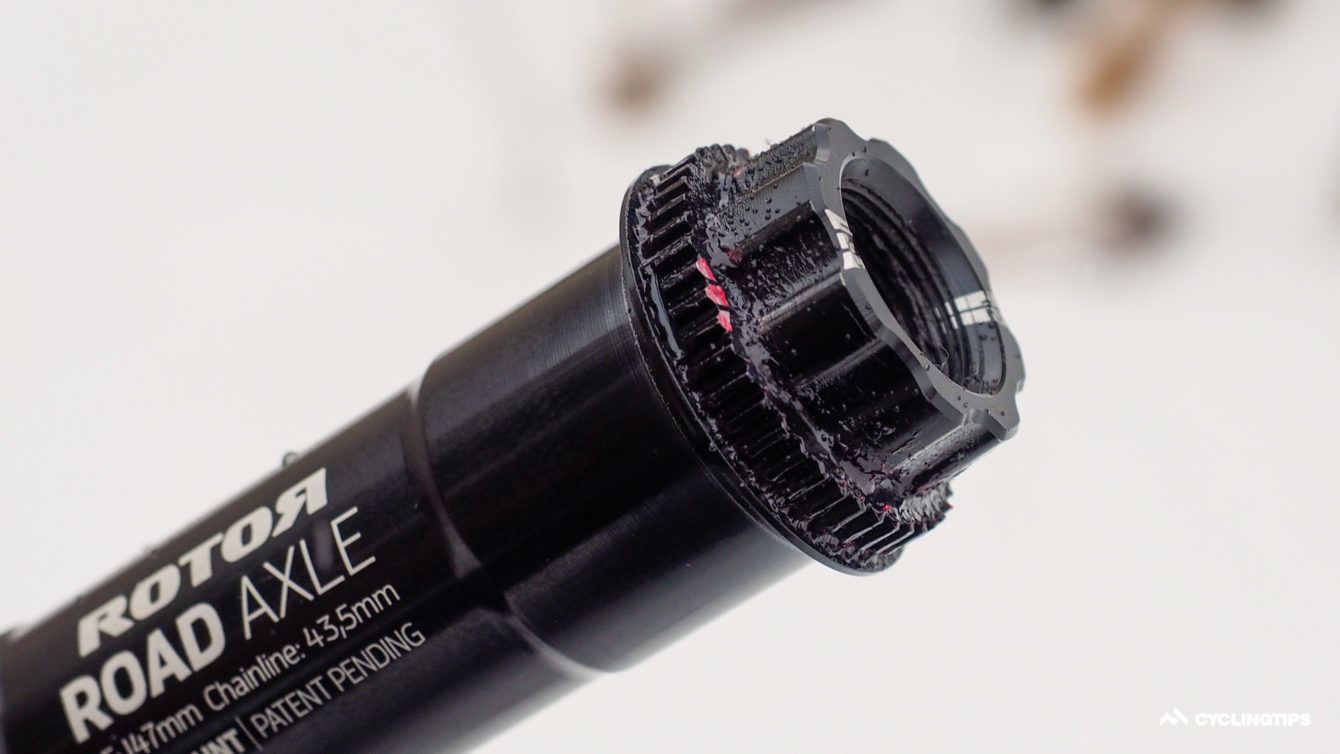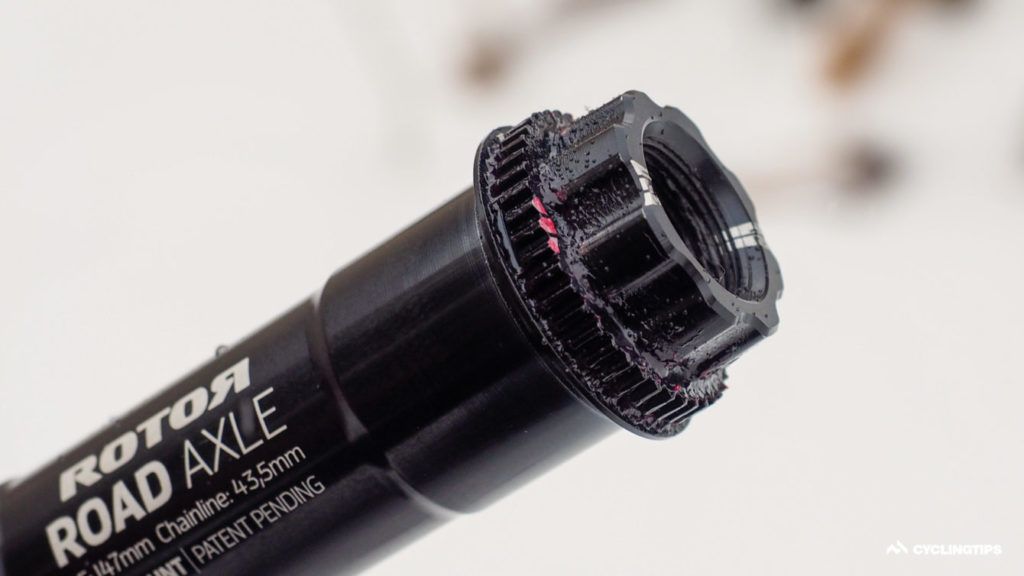 The chainring spider is sandwiched between the shoulder on the spindle and the driveside crankarm. This sort of arrangement can only work well if the machining tolerances are held very tight.
Retail price for the arms alone is US$449 / £346 / €389; adding a spindle and a set of direct-mount round chainrings adds US$215 (pricing for other regions is to be confirmed).
I've been running a set of Aldhu Carbon cranks on my gravel bike for the past couple of weeks, in a 1x setup with a 44T elliptical Q-Ring and an INspider power meter. Actual weight for my setup is 613 g, without bottom bracket.
While I certainly can't confirm Rotor's precise claims regarding crankarm stiffness, what has impressed me is the quality of construction — specifically, the blissful sound of silence. Instead of using a threaded lockring to secure the chainrings or spider to the splined base of the crankarm as is usually the case, Rotor instead resorts to a sort of sandwich layout. The spider is the filling, a shoulder on the spindle and the driveside crankarm act as the two pieces of bread, and the crankarm attaches to the spindle via a tapered spline.
For everything to work properly, the machining tolerances have to be extremely precise, and when the system was first introduced in 2017, I was more than a little skeptical. Even if that spindle and crankarm taper is a tiny bit off, the result could easily be lots of creaking at one end of the dimensional tolerance range, or a crankarm that refuses to stay tight at the other.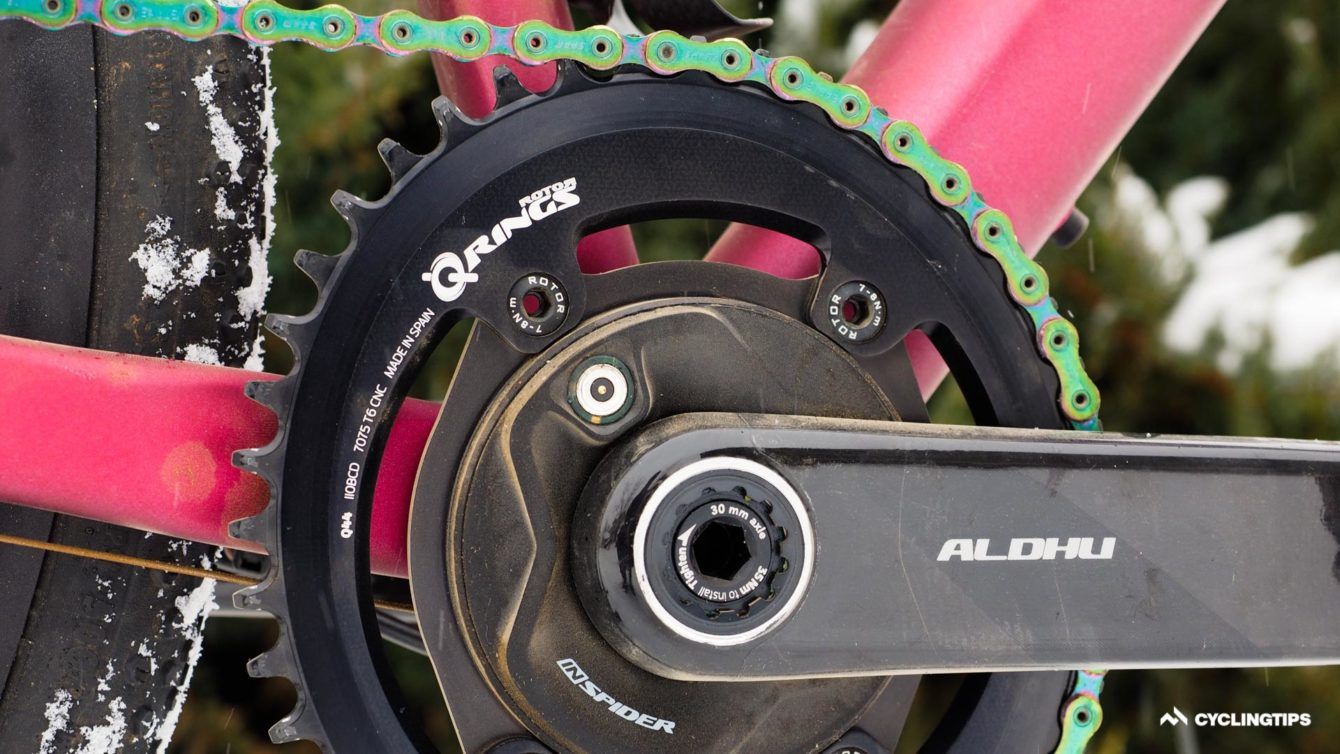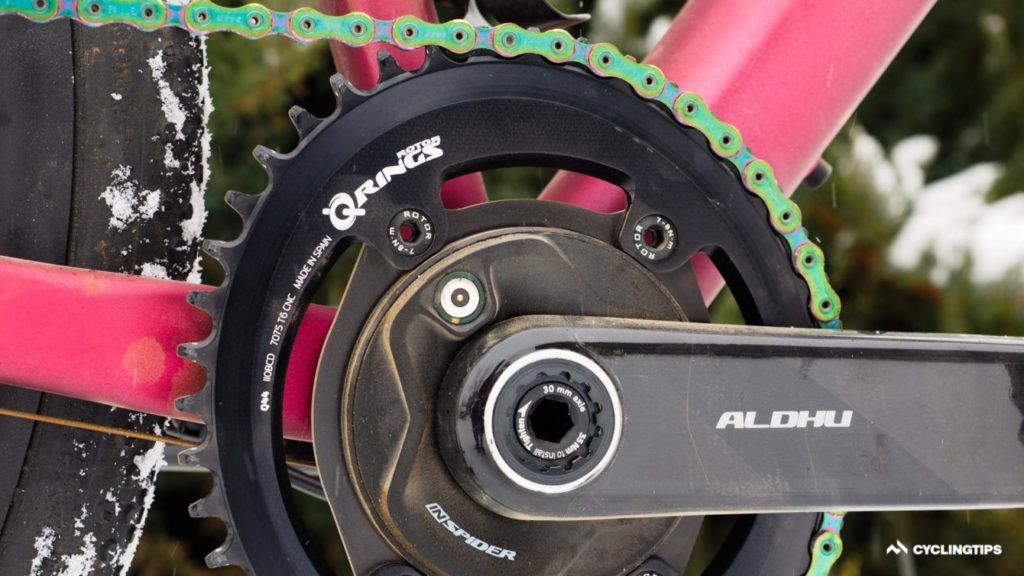 The novel modular construction seems like it would be prone to creaking, but Rotor seems to have done a good job of keeping the tolerances tight so that everything stays quiet.
Granted, I've only been using this system for a handful of rides, but so far, so good, with no unwanted noises and no need to snug things up after the initial installation. For sure, that seems like a low bar for something at this end of the price scale, but then again, it's worth pointing out that many of us have also had unfortunate tolerance issues with bikes and components costing far more than this, so the fact that the Rotor Aldhu Carbon has simply been working the way it should is nevertheless notable.
Add in the versatility of that modular design, good stiffness and weight figures, a competitive price, and what I would consider to be good aesthetics, and it seems that Rotor has got a pretty good thing on its hands here.
More information can be found at www.rotorbike.com.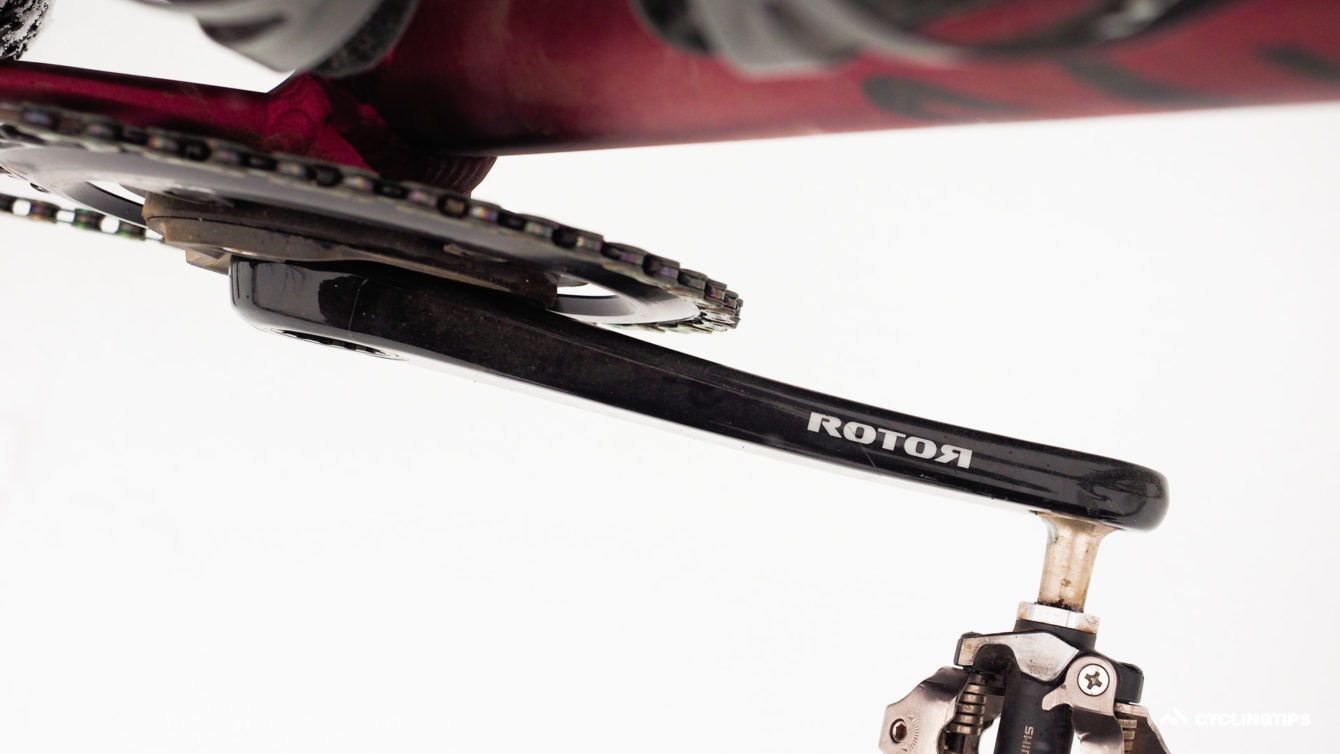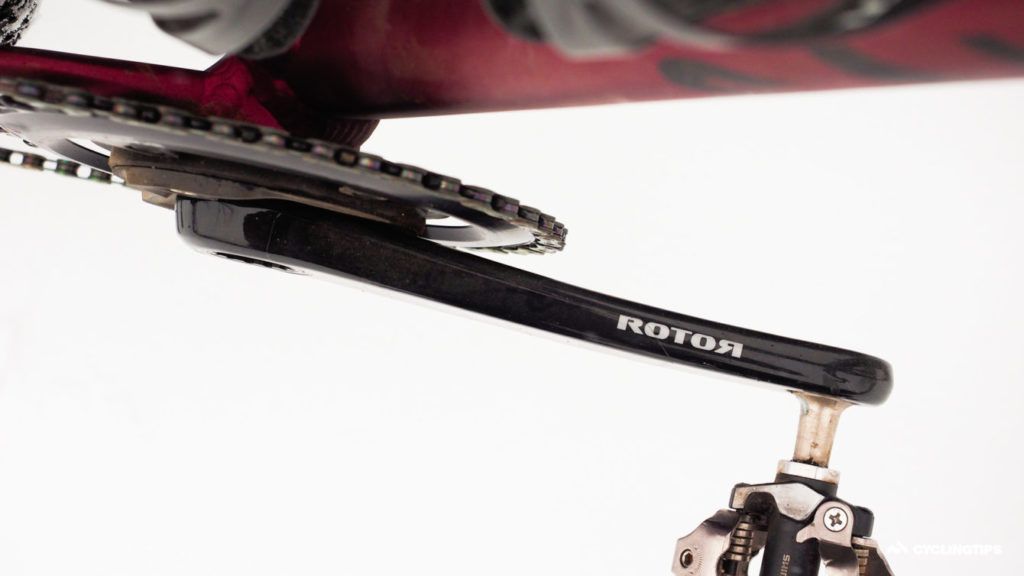 As you'd expect, Rotor claims the new Aldhu Carbon's crankarms are both lighter and more rigid than the standard version's aluminum ones.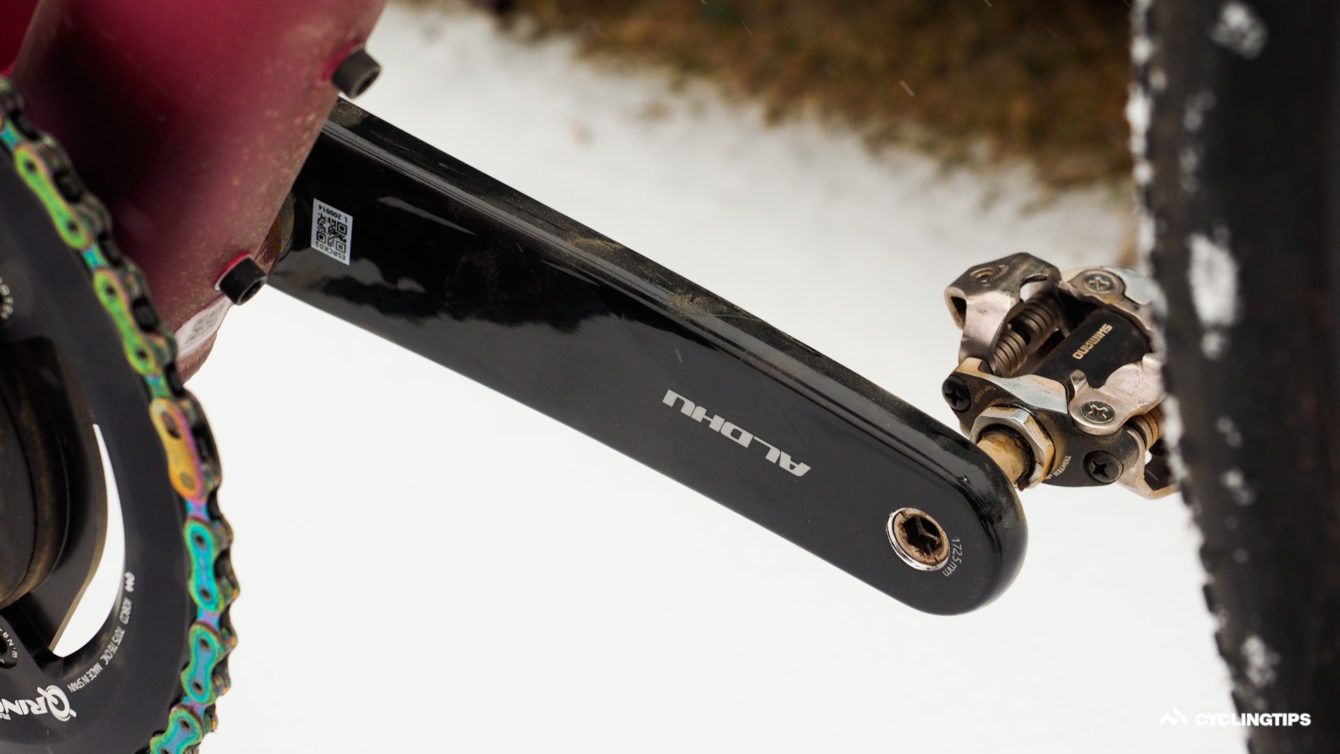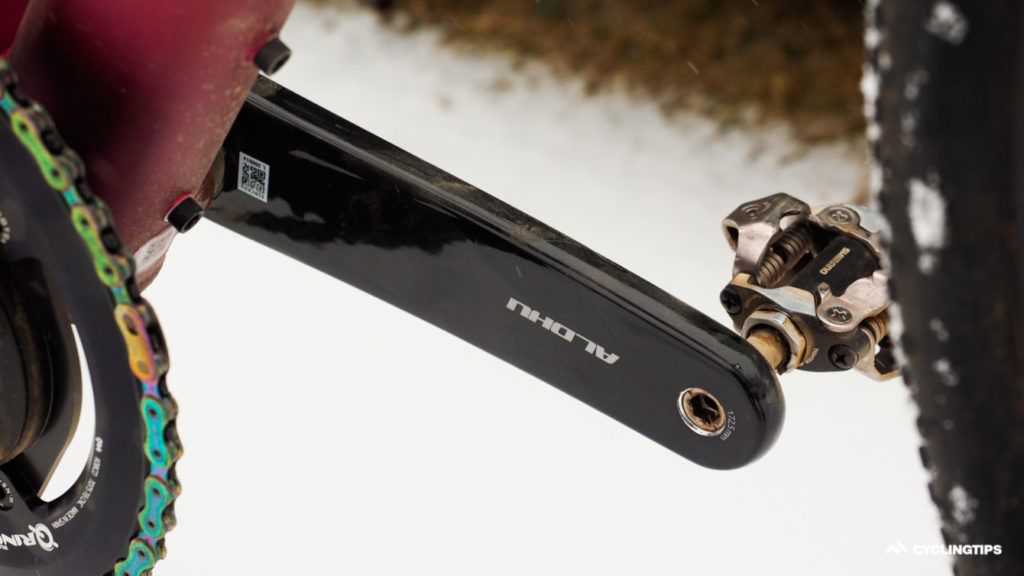 Whereas the Aldhu aluminum arms are offered in lengths from 150-175 mm, the Aldhu Carbon comes in a more typical range from 165-175 mm.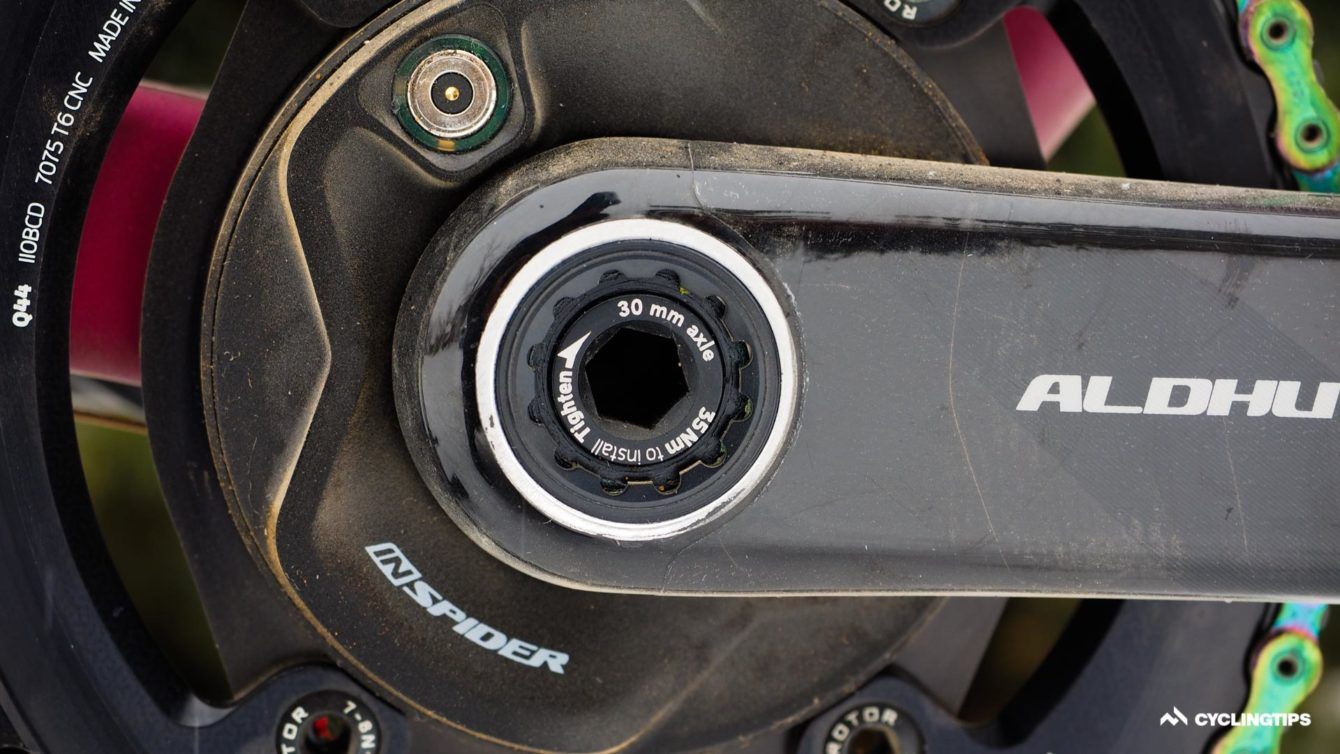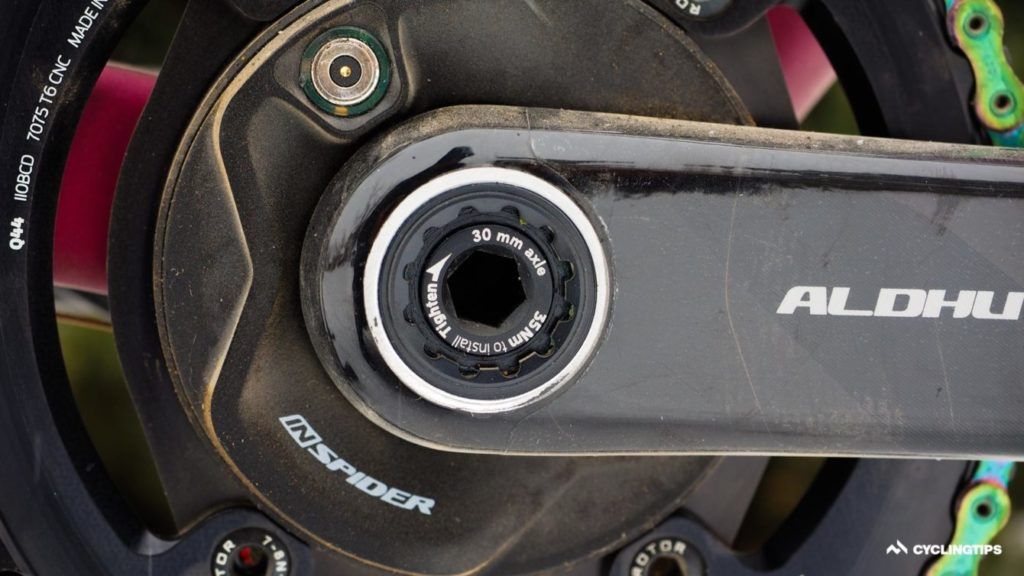 Self-extracting hardware makes for easier servicing. And kudos to Rotor for using a standard Shimano cassette lockring spline for the extractor cap.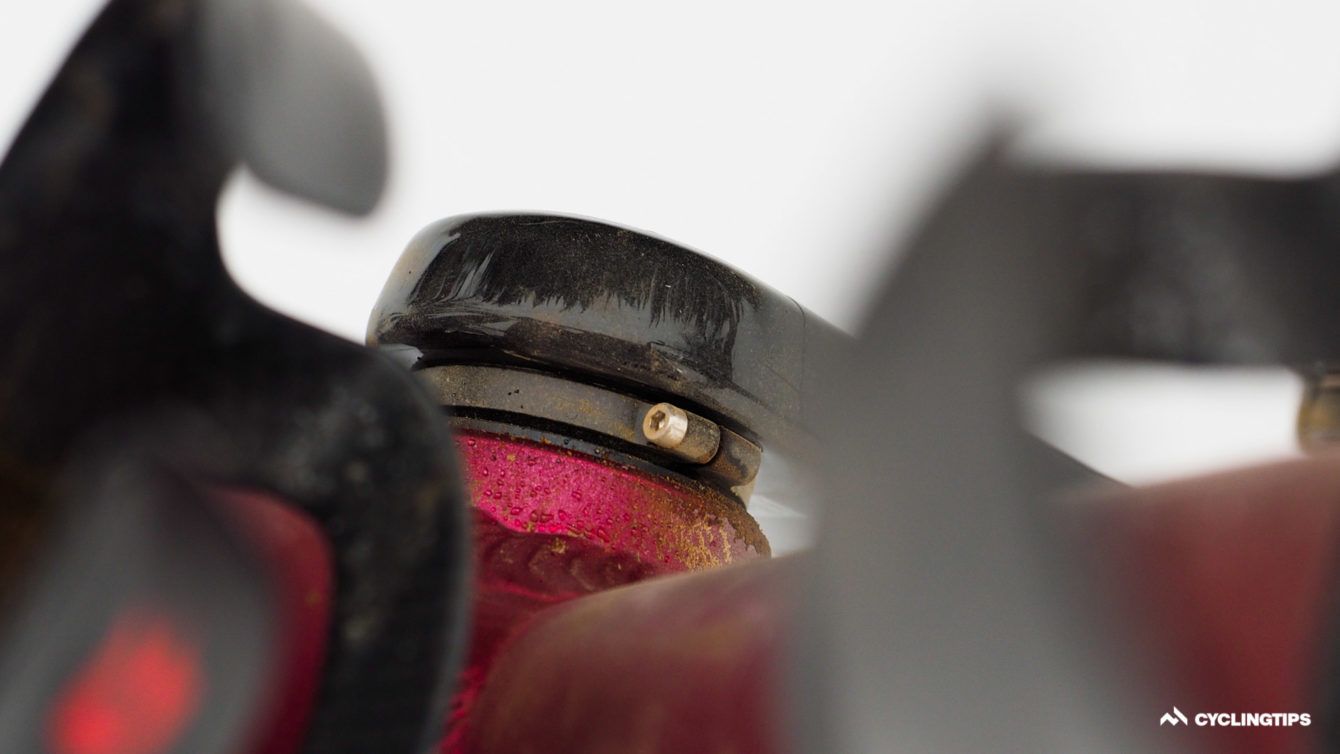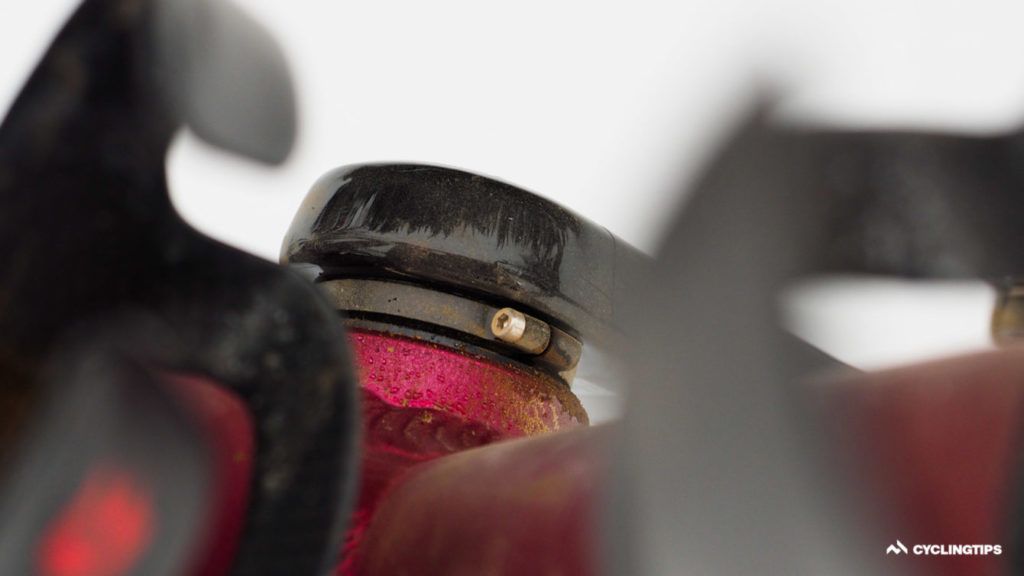 The non-drive arm incorporates a threaded bearing preload ring.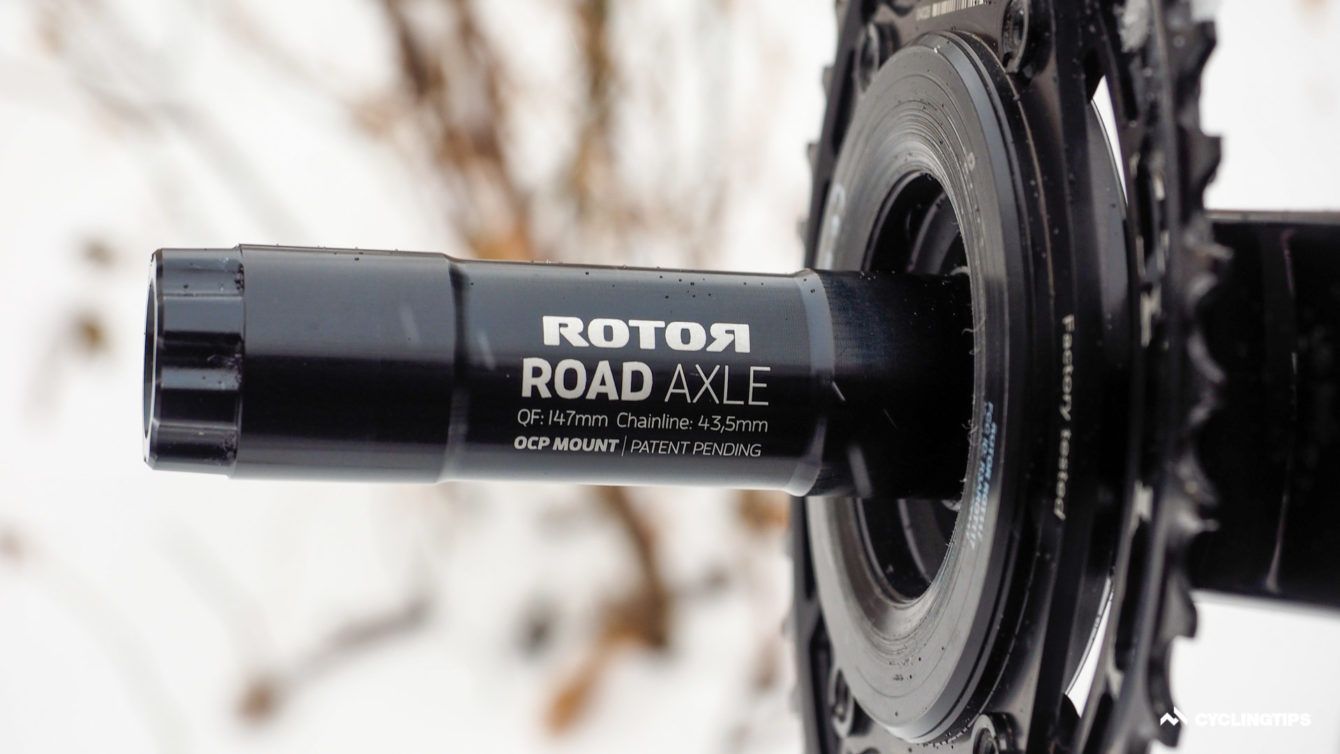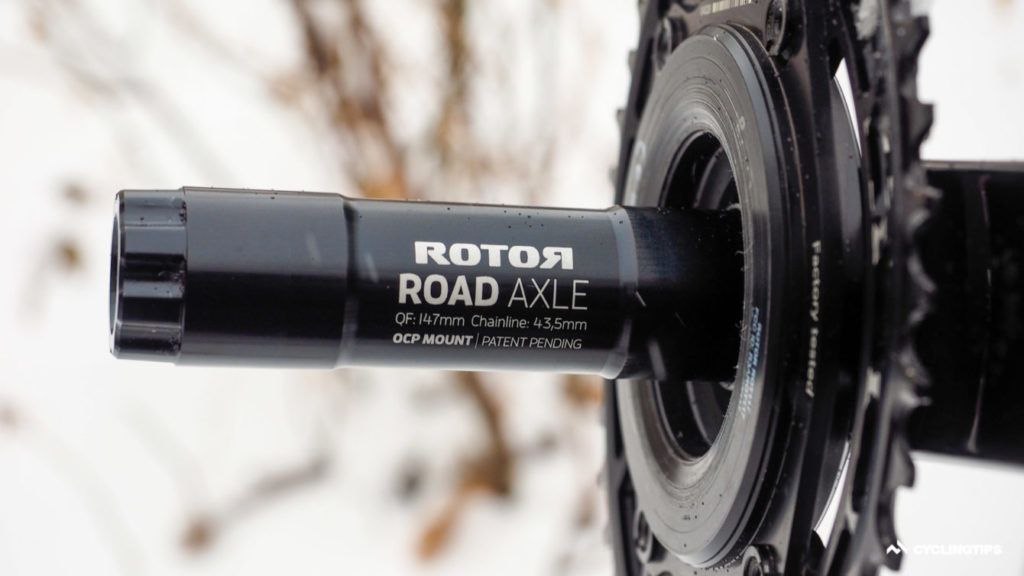 Rotor offers two different 30 mm-diameter aluminum axles for the Aldhu Carbon crankset depending on your chainline requirements.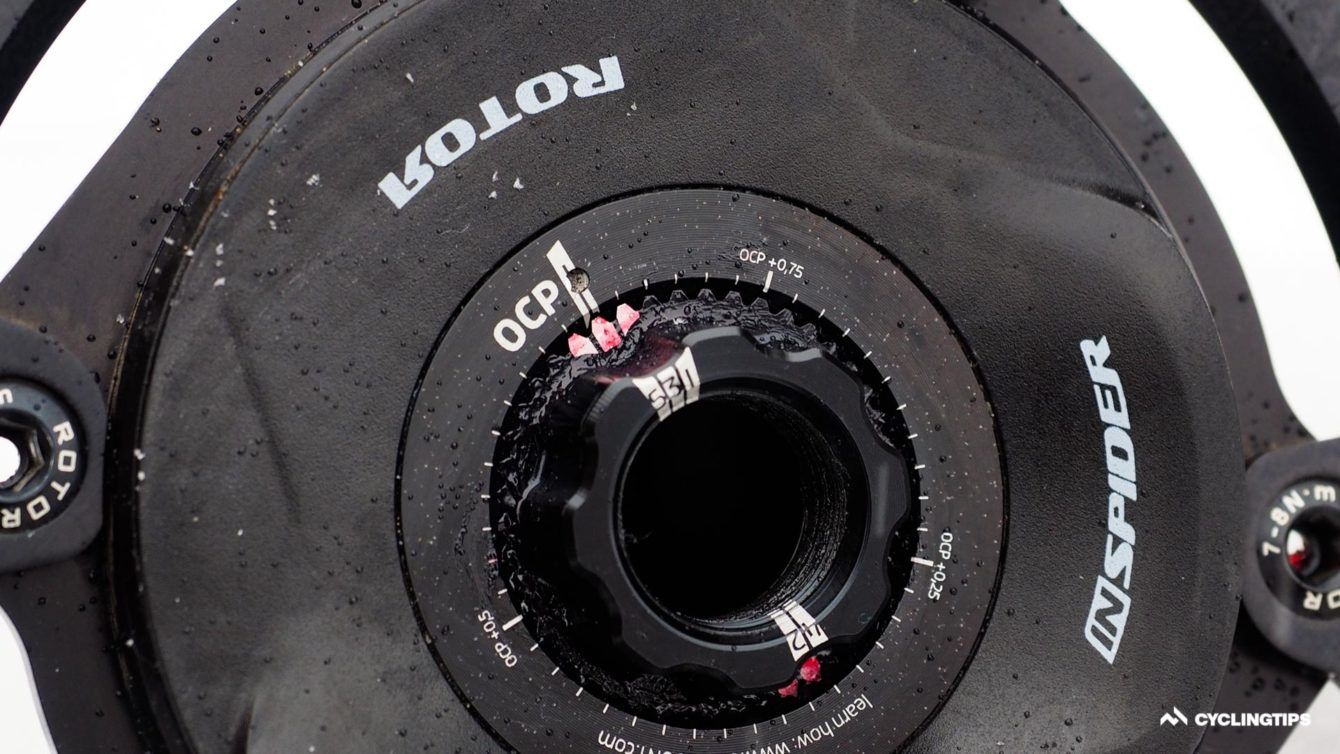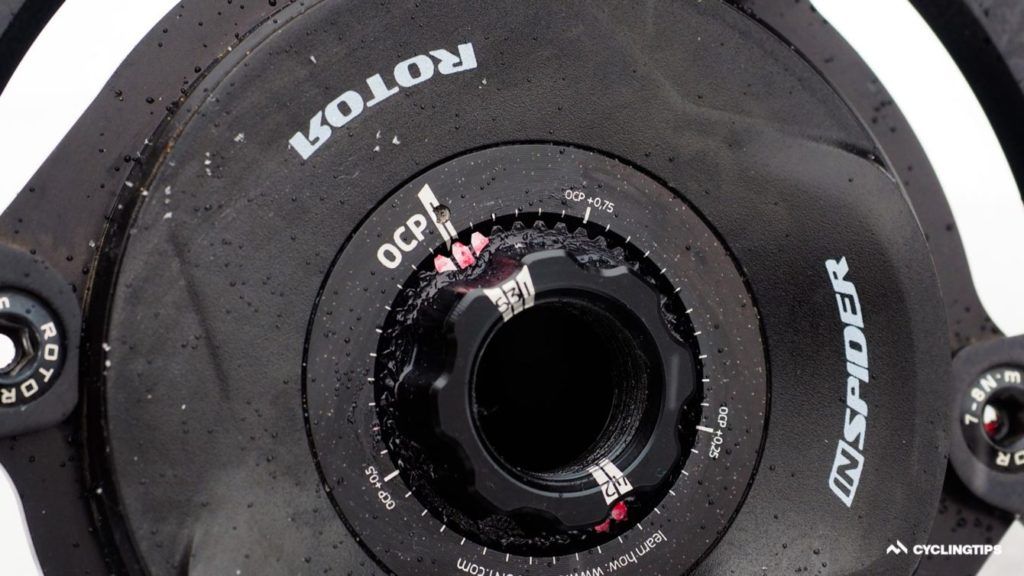 The finely splined interface for the chainring spider allows for slight adjustments when using Rotor's Q-Ring elliptical chainrings.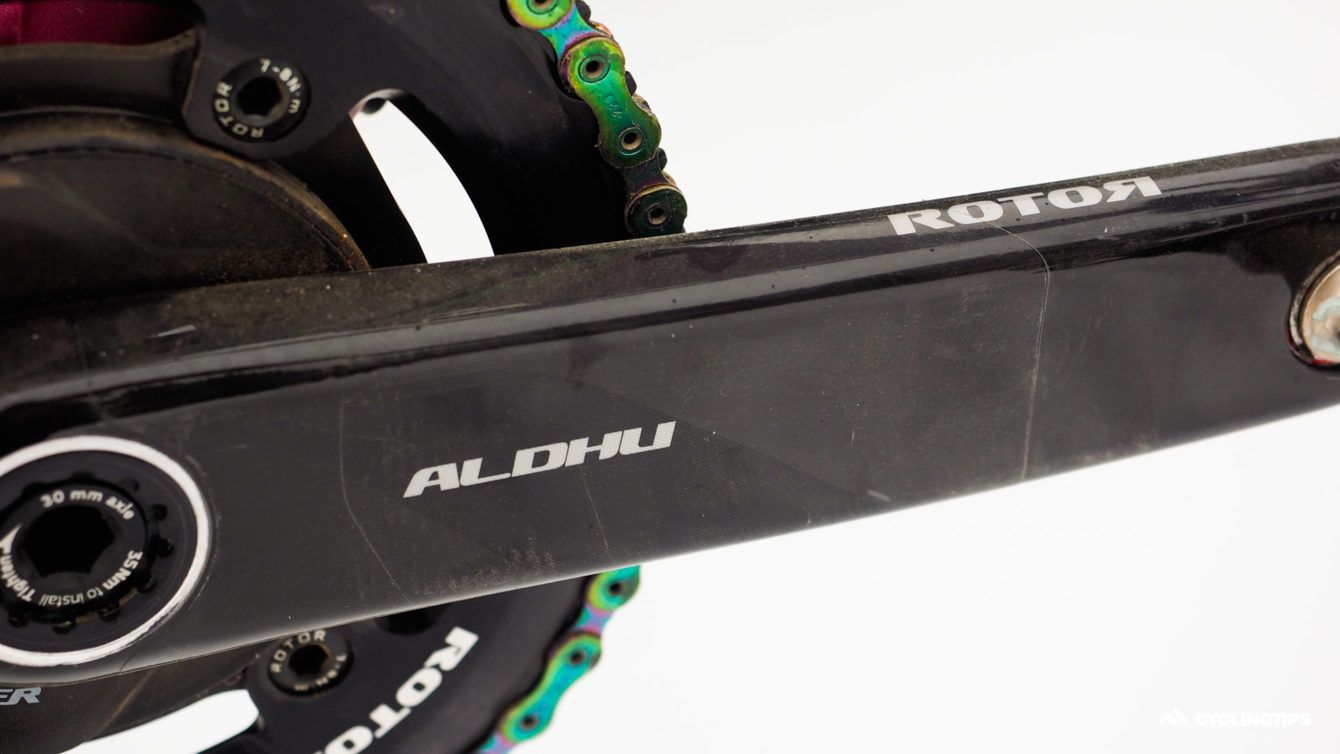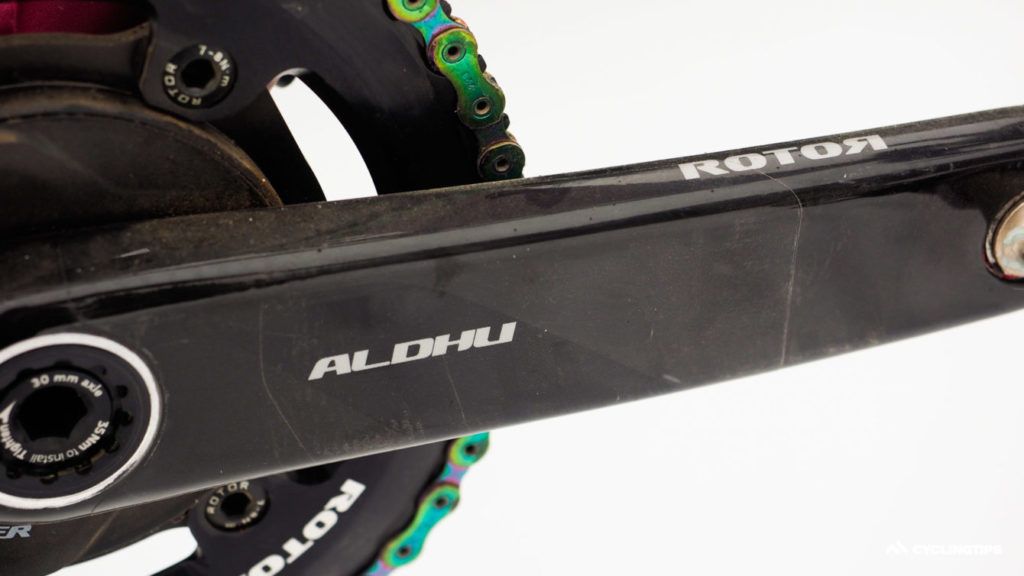 Clear vinyl protective tape is pre-installed at the factory.