The new benchmark for ultralight performance and the ultimate expression of Factor's design and manufacturing expertise. VAM (Velocita Ascensionale Media,) is the latest marvel to emerge from the Factor Carbon Lab™.
The O2 VAM combines three years of data from our O2 Project with demanding fabrication techniques, redefining what is possible and shattering industry norms. Turning convention on its ear, VAM shines on the unforgiving ramps of Passo dello Stelvio, but owing to its unprecedented stiffness to weight ratio and unparalleled ride quality, is equally suitable for a local century ride.
VAM obsessively detailed fabrication technology and selection of materials allows Factor to meet the twin challenges of creating a chassis to attack when the grade points skyward, yet one capable of carving through corners with authority when the course heads back to the valley floor.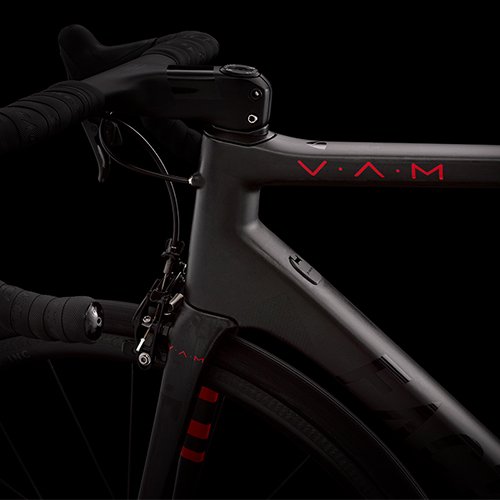 BRILLIANTLY ENGINEERED
Applying Factor's ethos of zero compromises, the O2 VAM is the result of the most substantial engineering breakthrough in carbon bike manufacturing in decades. Using new methods to defy modern carbon bike manufacturing convention, we're able to optimisestructural design while using the absolute minimum material possible, all without loss of stiffness or ride quality.
VAM is manufactured with a completely new method of carbon compaction. Pressurization greater than normal allows us to wring excessive resin from our base material, therefore making the carbon stronger, lighter and more efficient.
An optimized and strategic layup of mixed modulus carbon helps further define and augment VAM'S decisive handling characteristics.
UNPARALLELED RIDE QUALITY
Until VAM, reduction in frame weight signified an equal decrease in ride quality. VAM forever alters this dynamic. Even as our lightest production bike to date, VAM is stiff and responsive under power, maintaining the superior ride and handling qualities justly regarded as the signature elements of all Factor Bikes.
A redesigned and optimised bottom bracket working in tandem with an updated seat tube provide the core of the O2 VAM's ride characteristics. An industry first, VAM incorporates Boron within the seat tube. This allows a reduction in weight while adding both stability and strength. The resulting structural integrity is combined with a meticulously designed BB junction, providing instantaneous power transfer and in essence, serves as the beating heart of the O2 VAM.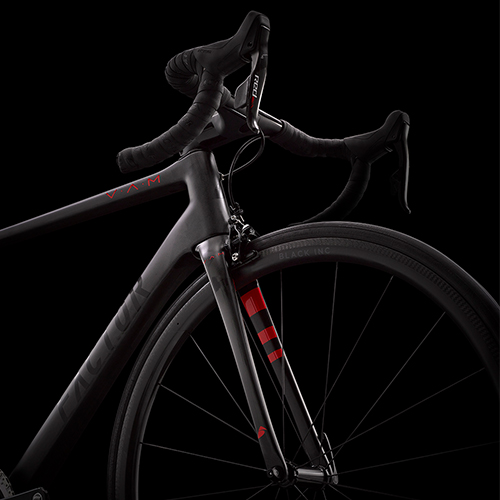 SIMPLY COMPATIBLE
There's no asterisk next to the weight of the bike. VAM's weight (or more precisely, its lack of it) is due to inspired design and manufacturing excellence. Instead of relying upon a collection of temperamental and difficult to obtain ultralight components to hit target weights, we challenged ourselves to deliver weight savings within the chassis. The goal? To allow the O2 VAM to be assembled with standard components, and its rider to enjoy the thrill of an ultralight, with the reliability and compatibility of standardized kit.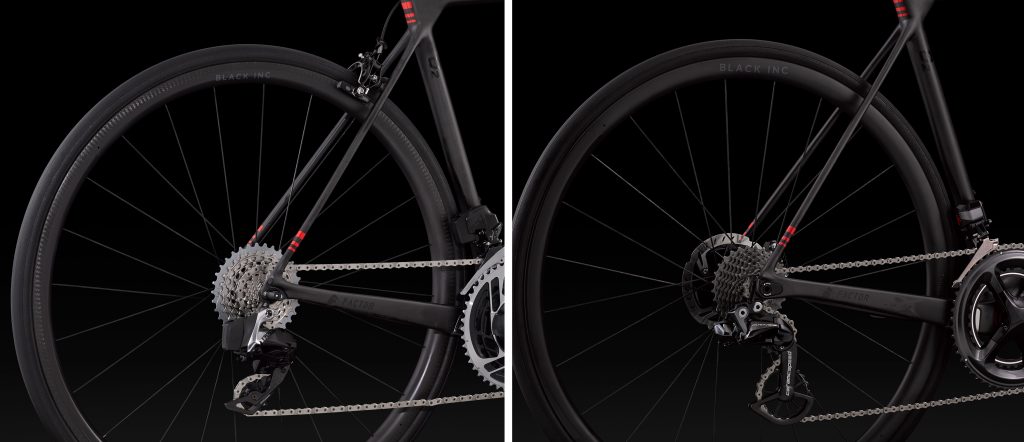 BRAKE OPTIONS
Both the rim and disc brake versions are compatible with mechanical and electronic drivetrains. The rim brake version now uses Direct-Mount standard, for increased power and easier adjustments.
The O2 VAM also features an entirely new cable routing path, cable routing management port, and cable stops for mechanical shifting and brakes.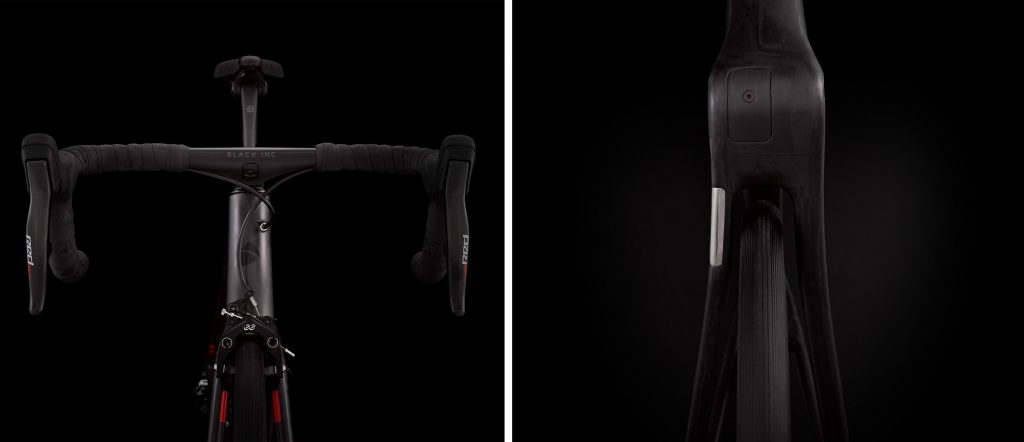 WORLD TOUR PROVEN GEOMETRY
Optimized structure design and carbon layup and specific material choices, depending on the frame area and shape, allows us to use the least material without loss of stiffness, efficiency or ride quality.
The VAM O2's race-tuned geometry features increased tyre clearance from the O2 of 30mm measured, integrated carbon headset top-cover options, both 5mm and 20mm, for a cleaner look and stem integration for different handlebar heights. The result: greater responsiveness and comfort, faster rolling speeds, and a more sculpted fuselage.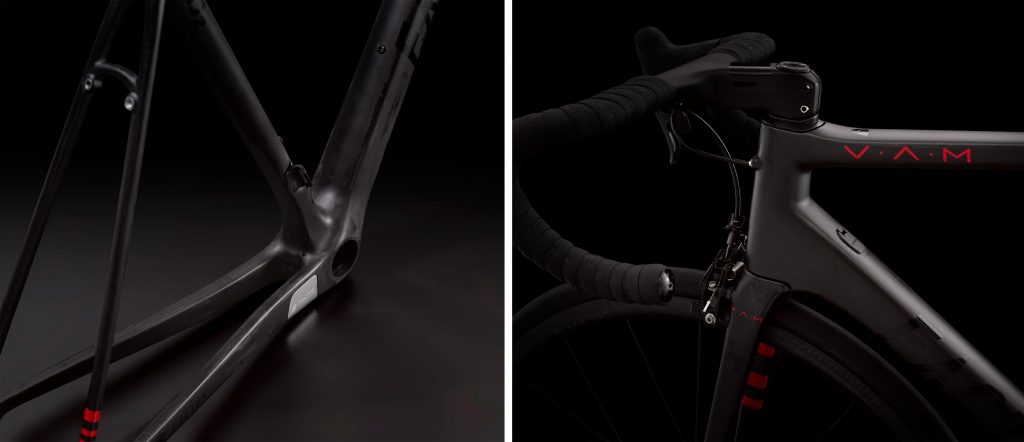 AESTHETIC EXCELLENCE
No Factor is complete without aesthetic excellence. An integrated carbon headset top-cover, available in 5mm and 20mm, provides an elegant and clean appearance while VAM's new stainless steel chainstay protects against frame scratches.
To keep the weight to the absolute minimum, the O2 VAM is available in a Naked-UD Carbon finish.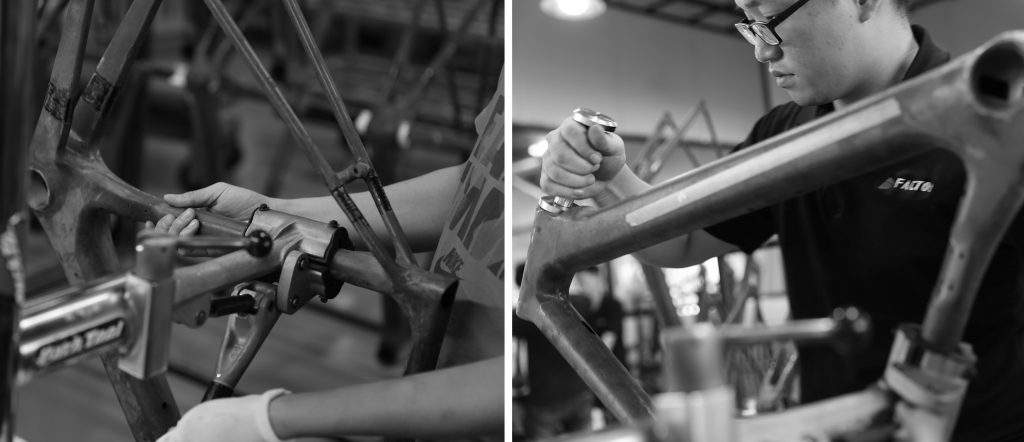 MADE FOR YOU. BY US.
VAM is the product of the industry leading Factor Carbon Lab™. Unlike most in our industry, Factor is the sole owner of the Factor production facility and author of each and every Factor bicycle. It's this steadfast commitment to in-house design, testing and production that creates and environment in which inspiration becomes an essential component of perfection. By making every product ourselves, we're also able to quickly and thoroughly integrate carbon lay-up changes, testing repeatedly until we achieve the desired characteristics.
Perfection doesn't occur by accident or luck. Instead it's the product of personally and obsessively overseeing every detail, no matter how small.
Available in two color
Naked Carbon (Red) / Gloss Carbon (Chrome)